VICTORIA, LADY SACKVILLE 1862 - 1936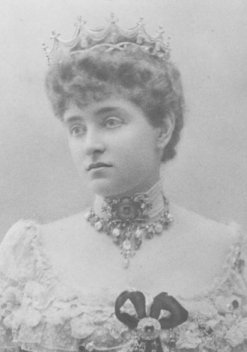 Victoria was born in 1862 in Paris, the second child of Josefa Duran - also known as Pepita - and Lionel Sackville-West, an English nobleman and diplomat. He was the fourth son of George West 5th Earl de la Warr and his wife Lady Elizabeth Sackville, herself the elder daughter and wealthy heiress of the 4th and last Duke of Dorset.
Josefa Duran and Lionel Sackville-West had five children. They could not marry since Josefa was already married, but Lionel Sackville-West loved and maintained his family and the children were brought up as English Ladies and Gentlemen. His illegitimate ménage seems not to have affected his career as a diplomat; when he was posted to Washington USA as British Minister he took Victoria with him to be his official Hostess in Washington Society. Beautiful, gracious and every inch the English grande dame Victoria was a resounding success in Washington, maintaining later that she had received 25 offers of marriage during her stay in the USA !
Lady Elizabeth Sackville had bequeathed Knole House in Kent to her second son Mortimer; he was given a Barony to go along with this grand inheritance and became the 1st Lord Sackville. Upon his death in 1888 Victoria's father became the second Lord Sackville and she accompanied him back to England to become the glittering and glamorous Lady of Knole, mistress of the great tudor house near Sevenoaks in Kent. Her cousin, another Lionel Sackville-West, son of the fifth brother William, fell deeply in love with his captivating and alluring cousin and despite family opposition they were married in 1890 continuing to live at Knole where Victoria remained her father's official chatelaine. Their daughter and only child Victoria Mary, always known as Vita, was born at Knole in 1892.
In 1908 Victoria's father died and her husband then became the 3rd Lord Sackville. With scarcely a blink of an eye Victoria remained the mistress of Knole, first daughter then wife, a hegemony of 40 years, overcoming and indeed triumphing over the scandal of her illegitimate birth, Lady Sackville to her death.
The embarrassment of birth did not quite die away. In 1909 Victoria's brother Henry made a bid to to gain the title of Lord Sackville - and Knole - by attempting to prove that their mother Josefa had in fact secretly married their father. A very public court case followed and Victoria found herself in the strange situation of opposing her brother's claim by reinforcing their illegitimacy; at one time she postulated that their father was not in fact Lionel Sackville-West but a Spanish duke !
Although the marriage fairly quickly lost its passion and was followed by a wealth of adultery on both sides, Lady Sackville held on grimly through the years to her position as Knole's increasingly temperamental matriarch. A brief attempt by Lord Sackville to obtain a divorce was crushingly defeated - although her own relationships with elderly rich gentlemen were never publicly acknowledged.
In 1918 Lady Sackville bought her first house in Brighton 40 Sussex Square (now flats) filling it with seven vans of furniture from Knole. In 1923 she moved to White Lodge a house on the cliffs at Black Rock in Brighton: a seven day sale was need to clear 40 Sussex Square which included sculptures by Rodin and Epstein and a 42 stone diamond necklace. Upon the death of her husband in 1928 she finally had to leave Knole and until the end of her life lived alone in Brighton; increasingly eccentric, prone to anger and frequently antagonising Vita and her husband Harold
As the years passed she became more rather than less difficult. In 1933 her butler issued her with a writ for non payment of wages; she quarrelled yet again with Vita and Harold whom she accused of siding with the unfortunate butler. Yet after a lonely death in 1936 at White Lodge Vita's love for her difficult yet exotic mother was celebrated in her novel Pepita; her grandmother, Victoria, Lady Sackville's, romantic, talented, and gypsy mother.