COLONEL SIR VICTOR BARKER D.S.O 1895 - 1960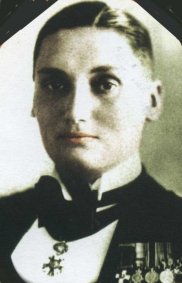 Valerie Barker was born in Jersey in 1895 but she was educated in England after her family moved to Surrey. She always wished to have been born a boy, loved horses and drove a car, and in 1914 joined the war effort as a VAD marrying Harold Arkell-Smith an Australian Officer in 1918. The marriage failed almost immediately and she re-enlisted in the newly formed WRAF but after being demobbed she met and moved in with Ernest Pearce-Crouch - another Australian - with whom she had 2 children, a boy and a girl.
The couple went into farming together in Climping in Sussex and Valerie increasingly took to wearing masculine clothing, forming a friendship with Miss Elfrida Howard -whom she told that she was in fact a man masquerading as a women !
In 1923 Valerie left her common-law husband and family and with a full set of new suits and shirts, collars and ties moved into the Grand Hotel in Brighton as Sir Victor Barker Bart. DSO where he was joined the next day by his fiancee Elfrida Haward. They were "married" at St Peters Church in Brighton on the 14th of November 1932.
Always living above his means Sir Victor was indicted for bankruptcy and discovered to be a woman when imprisoned, eventually being found guilty of "knowingly and willfully causing a false statement to be entered into a register of marriage." The false statement being that there was no lawful impediment as to why Sir Victor and Elfrida should not be man and wife. After this Victor Barker was forced into lower and less well paid jobs; changing his name he took more and more menial work and in 1934 served a sentence for petty theft when living as John Hill in Henfield. Three times in his life he sold his story to the popular press for money and even appeared as a circus attraction as The Man-Woman, but eventually died poor but forgotten in 1960 as Geoffrey Norton. At his own request he is buried in an unmarked grave in Kessingland churchyard near Lowestoft.