VESTA TILLEY 1864 - 1952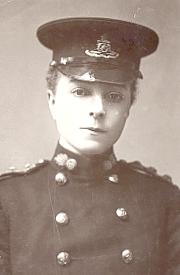 Vesta Tilley was one of the most well known and highly paid Musical Hall Artistes of her time. She appeared frequently at The Hippodrome Music Hall in Middle Street in Brighton (now a Bingo Hall,) when she married in 1890 she and her husband honeymooned at the Grand Hotel and in 1947 aged 83 she bought a summer holiday flat in Hove - 8 St. Aubyns Mansions, Kings Esplanade.
Vesta Tilley was that almost forgotten artiste - a Male Impersonator. She played soldiers, sailors, bellhops, policemen - young men in sporting clothes, boaters and stiff collars, complete morning kit with fancy waistcoat, and full white tie and tails evening dress with top hat, gloves and cane. And more. She played Principal Boy in pantomime - having a fondness for Dick Whittington - she sang, she danced, she trod the boards for 50 years.
She was also a canny business woman who negotiated her own contracts, she became rich and kept her money, she was circumspect and moral, no hint of impropriety or scandal ever touched her long life. She retired from the stage in 1920 - her husband the Theatrical Entrepreneur and Music Hall owner Walter de Frece had been knighted in 1919 for services to the war effort and sought a fresh career as an MP - and Vesta Tilley became Lady de Frece, MP's wife, guaranteed to bring in votes, votes votes !
It was a big step up. Matilda Powles was born in 1864 in Worcester; her father was a factory worker who took to the Music halls with his own act and as Chairman at the Theatre Royal Gloucester. At aged 4, billed as "The Great Little Tilley" young Matilda makes her initial stage appearance as a child singer and dancer with her father as her manager; in 1870 she first puts on boys clothes to parody a well known Music hall tenor Sim Reeves, and is an instant success. In 1875 now aged 11 she makes her London debut and changes her name to Vesta Tilley and in 1877 makes her first pantomime appearance in Portsmouth. Her father dies in 1889; and year later she marries Walter de Frece in Brixton, South London. She is a Star, she is top of the bill, her appearance guaranteed to fill the house every time. Her fans adore her, her popularity is astronomical. She conquers America as well; back home she makes her first Royal Variety Performance in 1912 and in the war which follows she becomes the Tommy in the Trench* and the Jack Tar Home from Sea. She tours hospitals and sells War Bonds. In 1920 aged 56 she makes her final appearance at the Coliseum in London - steps out of her breeches for good and is Lady de Frece until her death in London 1952 at aged 88.
What was so wonderful about Vesta Tilley ? Only records made in the early years of recording and photographs remain. But the records let us hear a bright, expressive voice: crystal clear, full of fun. Speaking directly to the listener. In the photos you can see the knife-edge crease in the trousers, the high gloss shine on her shoes, the exquisite tailoring of her coats and shirts; her embroidered waistcoats are silk and the uniforms fit just-right ! It as said that she wore men's underclothes when performing; probably she did, just for the trousers to hang properly! Her body is well proportioned, a neat small head on square shoulders, eyes big and wide apart; straight shapely legs a few inches longer than her slim but well formed body. ! She was a talented actress - she could sing as well. She was perfect ! She was the best