Dr. RUKHMABAI 1864 -1955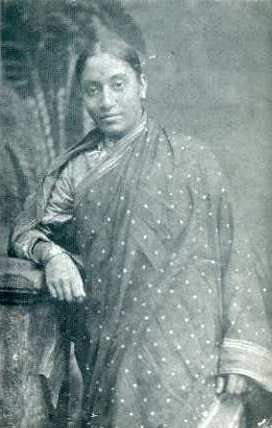 Rukhmabai was born in Bombay, India in 1864. Her mother was aged fourteen when she was married and fifteen when Rukhmabai was born. Two years later at age seventeen she was widowed. Although from a professional caste, remarriage for widows was not forbidden, and seven years after the death of her husband Rukhmabai's mother married Dr Sakram Arjun a Doctor and Professor of Botany at Grant medical College in Bombay. He was a supporter of social reform in India and encouraged Rukhmabai to continue to study.
Rukhmabai's mother had given in to pressure from her own father to follow the Hindu custom of the time and at eleven years old Rukhmabai was married to Dadaji Bhikaji then aged nineteen but did not live with him, remaining with her mother and step father. In 1884 a long battle between Rukhmabai and Dadaji began when he attempted, in law, to assert his right for his wife to live with him.
Rukhmabai defended herself by appealing to English Law which would not compel her to live with her husband and consummate the marriage against her wishes. The issues of Child marriage and the lack of education for girls and women hit the headlines in London and heated discourses on the legal questions as to whether morally superior English Law should override Hindu Law filled the latter pages of The Times for many months.
In her defence Rukhmabai claimed that her husband was educationally and morally inferior to her, his health was poor, and that what he really wanted was financial gain. After an initial victory a second hearing found in favour of her husband and she was ordered by the court to take up residence with her husband or face a prison sentence. However by this time her case had been taken up vigorously not only by Indian Social Reformers but by many feminist women in London who, with the help of Dr Edith Pechey then Senior Physician at the new Cama Women's Hospital in Bombay, raised a fund to bring Rukhmabai to London.
Here she entered the London School of Medicine for Women and qualified as a doctor in 1894. During this time Rukhmabai met and studied alongside Louisa Martindale, becoming a frequent visitor to Brighton and Mrs Martindale's house. She then returned to India where she continued to work as a doctor in Bombay. In 1901 on their World Tour the Martindale entourage visited Rukhmabai in India, spending the Diwali of 1900 with her family in Bombay.
Rukhmabai became Chief Medical Officer of Hospitals in Surat and Rajkot,continuing to write against the harmful effects on women of purdah and life in the zenana. She did not marry; although Dadaji had finally accepted financial compensation not to continue with his claims, her legal situation in Hindu law as neither married nor unmarried, was never clear.
She died in Bombay in 1955 aged ninety one.