Dr. OCTAVIA WILBERFORCE 1888 - 1963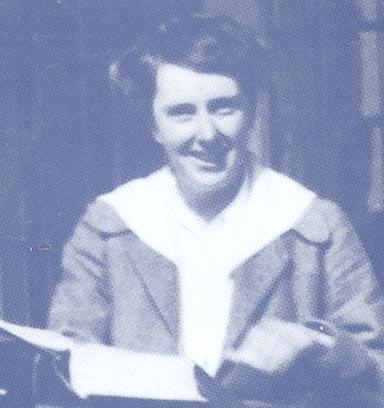 Octavia Wilberforce was born the eighth - and last - child into a Sussex family and was the great granddaughter of William Wilberforce who fought for the emancipation of slaves. The family moved to Bramlands, a house near Woodmancote in Sussex, and Octavia lived the life of a well to do Edwardian young lady; after her presentation as a debutante 1906 she returned happily to Sussex, her friends, golf and growing roses.
However she had never been satisfied with her life and in 1911, when insisting that a housemaid be treated for a persistent cough by a women doctor, Octavia met Dr Louisa Martindale. This was a momentous meeting: from it Octavia resolved that her own future would be to become a doctor herself. Her family was adamantly opposed and Octavia was initially supported by her great friend Elizabeth Robins the charismatic American writer and actress whom she met in 1909 and to whom she remained deeply attached up to the end of Elizabeth's life in 1952. Elizabeth's support was vital since Octavia had had little formal education and was required to study hard to pass the public Matriculation Examination in five subjects - which included Latin, Mathematics and Physics - before being able to be accepted at a medical School. She failed to pass many times but eventually did manage to enter the London School of Medicine for Women in 1913 although she did not get through her Physics exam until 1917 and Physiology and Anatomy remained hurdles as did examinations in Surgery.
However physical work as a dresser in the Casualty Department at St. Mary's Hospital in Paddington during the First War years gave her practical and diagnostic experience, she excelled on the wards and in 1920 she finally qualified as a doctor. After working in hospitals for 3 years she came to Brighton and bought 24 Montpelier Crescent Brighton where she put up her plate and began general practice as well as working at The New Sussex Hospital for Women and Children. In 1927 Dr Wilberforce worked to open a Convalescent Home for Professional Women and Housewives at Elizabeth Robins' House Backsettown near Henfield West Sussex set in farmland Sussex. Throughout her life Dr Wilberforce retained a warm interest in sport and growing roses; in 1933 she built a herd of Jersey Cows which she loved dearly saying to her Vet that their intelligence was certainly higher than Matriculation standard ! During the Second war she exchanged fresh milk and cream with Virginia and Leonard Woolf then living in Rodmell in East Sussex, receiving in return bottles of preserved plums !
Now elderly, in 1945 Elizabeth Robins returned to live with Octavia: Miss Robins died in 1952 and in 1954 Dr Wilberforce retired to live in her bungalow in the grounds of Backsettown . She became a member of the Steyning National farmers Union and served on the West Sussex County Council. Dr Wilberforce died in 1963.