NANCY SPAIN 1917 - 1964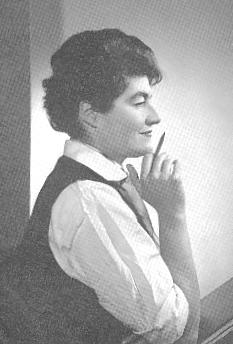 Nancy Spain was a successful and popular journalist, and a novelist of humorous light fiction She was also a well known Radio and TV personality and a whole generation of viewers have fond memories of her many appearances in Juke Box Jury on Saturday evenings. Artists, writers, and actors who knew her still applaud her wit, warmth, and stylish outspokenness.
Nancy's association with Brighton was brief but resounded through her whole life. Born in Jesmond, Newcastle in 1917, she was sent to Roedean School in 1931 - and by the time she left 4 years later she had acquired a taste for sport which led her to her first journalist job as a sports reporter, and the clarity of a Roedean voice which took her to the top in radio broadcasting. When war broke out in 1939 Nancy joined the WRNS and her first book which described her experiences ,"Thank You - Nelson," was published in 1945. More books and short stories followed at a steady rate as did book reviews for Tribune, The New Statesman, and Time and Tide . After a short stay at the Bolebrook Hotel in Bexhill-on-Sea in 1946 Nancy returned to London to pursue a successful social and literary life and in 1950, now a prominent and well known journalist and writer, she met Joan Werner Laurie the publisher (1920 - 1964) known as Jonnie who became her life partner.
Secrecy was essential and, when Nancy became pregnant in 1952 (her son Tom was fathered by Philip Youngman Carter, editor of The Tatler and husband of the novelist Margery Allingham) Jonnie herself registered the birth. She gave the boy the surname Seyler - from her husband Paul Seyler - and so young Thomas Seyler and Nancy's public - as well as her family - always believed that Jonnie was his birth mother. Had all this been known without doubt Nancy would probably never landed the plum job which came her way in 1952 when she was asked to make an appearance on BBC Radio's Women's Hour which heralded the beginning of her career as a broadcaster.
In later life Tom has taken his real father's surname - Carter. He now lives in Somerset.
Her first TV appearance was in 1955 in Balloon Debate; this was quickly followed by appearances in What's My Line, Who Said That ?and Juke Box Jury. However she continued to write and in 1957 came to Brighton for a short time to start work on a new book renting a house at 10 Wentworth Street. By 1964 Nancy was in demand from all the top Newspapers and Magazines, she could choose what to write about, and with Joan flew in a privately chartered plane from Luton Airport to Aintree for The Grand National. It crashed and the pilot and both Joan and Nancy lost their lives. The cause of the accident was never determined.