MARY ELIZABETH BRADDON 1835 - 1915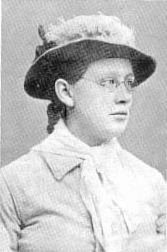 Mary Elizabeth Braddon lived in Brighton from 1857 - 1860 appearing as an actress at The Theatre Royal under the name Mary Seyton and writing as a journalist in the Brighton Herald . She lodged at both 26 and 34 New Road, Brighton In 1860 she abandoned the stage for the far more lucrative work of writing sensational fiction - at which she became very successful indeed.
In 1862 she had a phenomenal success with the best seller with Lady Audley's Secret - originally written as a serial - still in print today and televised in 2000 ! Mary Elizabeth wrote to support both herself and her mother, her father who was a solicitor and also a sporting writer, had abandoned them when Mary Elizabeth was a child; at her death in 1915 she had written 80 novels and 5 plays and was probably the most prolific and popular woman writer of her time, Lady Audley's Secret selling over a million copies. She lived with John Maxwell her publisher for many years and they were eventually married in 1874 when his mentally ill wife died. They had one son the novelist William Babbington Maxwell. She died in Richmond-on-Thames and there is a memorial to her in the local Church.