Dr. LOUISA MARTINDALE 1873 - 1966
C.B.E., J.P.,M.D., B.S.,(LOND.), F.R.O.C.G.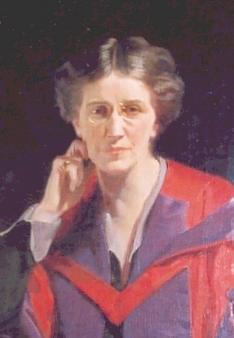 Dr Louisa Martindale was born destined for a glittering career and knew it from an early age. Her mother's first child she had always understood that she should study medicine and become a Doctor when she grew up.
The family move from Lewes to Brighton was brought about not only for the health of all the Martindale stepchildren but so that Louisa and her sister Hilda could attend Brighton High School, part of the Girls Public Day School Trust. They moved to a large house 2, Lancaster Road Preston, and when she was 17 Louisa went sent to the Royal Holloway College in Egham; 2 years later entering the London School of Medicine for Women. Louisa gained her M.B (LOND.) in 1899 and then her B.S (LOND.) shortly afterwards and in 1900 began work as an assistant to Dr Mary Murdoch who had a busy practice in Hull.
A long trip around the world with her mother and sister followed when Louisa studied at first hand hospitals in India, Australia, New Zealand, Honolulu and the USA. In 1906 Louisa gained her M.D in London and returned to Brighton to put up her brass plate at 10 Marlborough Place Brighton near the Pavilion. She was appointed Doctor to The Brighton High School and for Roedean School and was asked personally to become physician to the Misses Lawrence. In 1907 Dr Martindale joined the Visiting Medical Officer staff at the Lewes Road Dispensary for Women and Children. In 1911 the Dispensary (now called the Lady Chichester Hospital and Dispensary) moved to 4-8 Ditchling Road and included a small Medical and Surgical Hospital (as opposed to the 101 Roundhill Crescent Hospital which was for Nervous Diseases.) , Later this was renamed the New Sussex Hospital for Women and moved to Windlesham House, Windlesham Road, Hove in 1921 where she became Senior Surgeon and Physician.
In 1915 during WW1 she served at the Scottish Women's Hospital at the Abbey of Royaumont as a locum doctor for a short time*.
Dr Martindale became interested in the use of X-rays to cure cancer and installed an X-ray apparatus at the New Sussex Hospital and set about treating certain cases of fibroids and breast cancer; her work at the New Sussex Hospital specialised in this treatment. She moved her practice to 11 Adelaide Crescent in Hove in 1919 but in 1921 decided to sell up and move to London, although she remained Senior Surgeon at the New Sussex Hospital and continued to serve in Brighton as a Justice of the Peace. In the following years her career took on an international trajectory with the World Medical Association and the Medical Women's International Federation, travelling and lecturing on the treatment of cancer with radiation. In 1931 Dr Martindale was awarded the C.B.E and during the (2nd) War continued her work as a surgeon, eventually retiring in 1947.
In her early days in Brighton Louisa Martindale had met the Hon. Ismay Fitzgerald, and, in her own words "…… I invited to stay for a fortnight, with the result that she stayed 35 years." Of her own life she also says "I have had my full share of love and happiness."
Dr Martindale died in 1966 in London.
*"The Scottish Women's Hospitals" was founded by subscriptions raised initially by Dr Elsie Inglis with the help of the National Union of Women's Suffrage Societies. Its services were offered to the War office in London but the offer was declined ! Dr Martindale writes "Unlike Great Britain our allies accepted our offer and within a short time hospitals manned by women physicians and surgeons were opened in Calais, Royaumont, Serbia, Troyes, Salonika, Corsica, Ostrovo, Vranja, Russia and Sallanches."