Katherine Parnell 1845 - 1921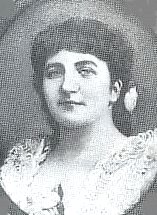 Born in 1845 the last child of a large wealthy landed gentry Essex family Katherine Wood, always known as "Katie," was brought up to become a loyal wife and loving mother. Her education was concerned with music, embroidery and housecraft, her purpose in life as with all other girls of her class - to acquire a husband. In 1867 she married "Willie" O'Shea, a "Castle Catholic" descendent of the old Norman aristocracy who had colonised Ireland in the 12th Century. The marriage seemed to be successful, a son was born in Brighton in 1870, and the family lived in a rented house in Patcham for some time. Two daughters followed. Willie took up Irish Politics and became MP for County Clare and the family moved to Eltham in South London. In 1880 he introduced her to Charles Stewart Parnell; the Irish MP destined to bring Home Rule to Ireland, Ireland's "Uncrowned King."
Parnell was the leader of the Parliamentary Irish Party in Westminster. His life's work had been to bring together the Irish MPs into a unified Party which would hold the balance of power between the Liberals and the Tories in the English Parliament. In return for Irish support Gladstone, the British Prime Minister and leader of the Liberal Party, had promised to present a Home Rule for Ireland Bill to the House of Commons: the combination of Liberal and Irish MPs would defeat the Tory opposition. Parnell was a powerful and charismatic leader, worshipped by the Irish, feared by the English, the man marked by God and Destiny to bring Independence to Ireland. He was unmarried, and he fell deeply, passionately and overwhelmingly in love with Katie O'Shea - and she with him. Their love affair is one of the great romances of all time; although it ended in death and grief it shook two nations. At first they did not live together, they met in London, Eltham Brighton and other towns on the South Coast. In 1883 Katie rented 39 Bedford Square in Brighton and then moved to a house in Medina Terrace in Hove although she still spent time in Eltham. The lovers stayed in other houses in Bournemouth, Herne Bay, Hastings and Eastbourne whilst Parnell continued his work in Westminster and Ireland. By 1889 Katie had left her husband and she rented 10 Walsingham Terrace in Hove to be with Parnell and their two children; it was to be their final home together.
The scandal broke in 1890 when Willie O'Shea filed suit for divorce from Katie citing Parnell, as co-respondent. No-one is quite sure why he finally took this step, it is clear that he had known for years about their liaison, and indeed so did many including Mr. Gladstone. He gained his divorce and eventually Katie and Parnell were married at the Registry Office in Steyning on 25th June 1891 - for not one of the local vicars would marry them. The people of England and Ireland had been shocked and outraged, their prejudice against divorce fanned by the flames of the press who blamed Katie as the adulterous seducer of a gallant leader. But it was the beginning of the end for Parnell. The Irish Catholics would not accept divorce, pressure was put on Parnell to give up his leadership of the Irish Parliamentary Party and support began to fall away from him in Ireland. The final blow came when Gladstone abandoned the Irish/Liberal pact and jettisoned the forthcoming Irish Home Rule Bill. Betrayed, defeated, sick, his life's work in ruins, Parnell died with Katie beside him at 10 Walsingham Terrace on 16th October 1891. He was forty five years old.
Katie was a maternal and domestic woman, she was essentially a "Housewife;" she never had occasion to work and her life was centered around her home and her family. She had six children three with O'Shea, and three with Parnell. Like so many before and after she had made a bad first marriage - and then met the love of her life, her life partner, who just happened to be Charles Stewart Parnell. She was never the promiscuous and callous adulteress nicknamed "Kitty" - with its feline and predatory connotations - by the press. Yet her life did impinge upon the fate of nations, it is frequently forgotten that Parnell was a Protestant; had he lived he would never have accepted the eventual bitter and troublesome partition of Ireland.
Without Parnell Katie lived on until aimlessly and in poor emotional health until 1921, cared for by her daughter Norah. She left Brighton in 1892 but eventually returned to the South Coast dying in Littlehampton on 5th February 1921; her gravestone can still be seen in the Municipal Cemetery. Willie O'Shea died on 22 April 1905 - he was then living in Hove at 19 Landsdowne Place.