IVY COMPTON-BURNETT D.B.E 1884 - 1969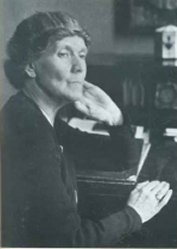 Ivy Compton-Burnett was born in Pinner near London; her father was an eminent homeopathic doctor and Ivy was the eldest of his second family. She had three half sisters and 2 half brothers but was soon joined by two full brothers and two sisters. The large family moved to 30 First Avenue in Hove in 1891 because Doctor Burnett had a high opinion of Brighton sea air as beneficial to childrens' health and in 1897 they moved again to 20 The Drive in 1897.
Dr Compton-Burnett died in 1902 and Ivy left home to study at the Royal Holloway College for Women in Egham, Surrey; she graduated in 1906. But she then returned to Hove to help with the education of the younger children. The family lived in seclusion, almost imprisoned by the widowed Mrs Compton-Burnett who had imposed a rule of withdrawal from social life; her experiences formed the basis for the intense and dramatic scenes of Edwardian family life with their secret, dark and tragic relationships which Ivy later described so intensely in her novels. Not one of the Compton-Burnett children, boys or girls,had their own family. Both her two (full) brothers died young, one of illness and the second in the Great War. The two youngest sisters died together in a joined suicide pact.
Ivy left Hove forever in 1914, heading for London, and in 1919 met Margaret Jourdain the writer and antiquarian.. Ivy continued to write successfully and they lived together in a wide circle of writers and musicians until Margaret's death in 1951. In 1967 Ivy was awarded the D.B.E. and elected as a Companion of the Royal Society of Literature. She wrote 20 novels in her lifetime and died in 1969 in London.