HARRIOT MELLON, DUCHESS OF St. ALBANS d. 1837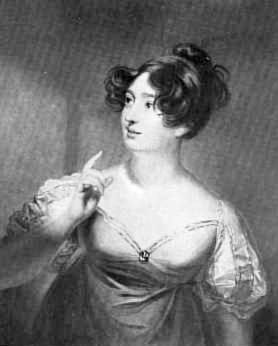 Harriot Mellon was a young actress appearing at the Duke Street Theatre (now demolished) when she attracted the attention of an elderly but very wealthy banker a Mr. Coutts. She became his mistress until his wife - who was insane - died 10 years later.
Mr. Coutts at the time was then 85 years old. Because he had frequently obliged the Prince Regent with loans the couple had always been accepted into Regency Society in Brighton so in 1822 after the death of her husband Harriot became a fabulously wealthy and eccentric widow. She spent lavishly and generously on socialising and parties at her house on the corner of Kings Road and Regents Square, but scandalised everyone when she pursued and then actually married the Duke Of St. Albans who was twenty years younger than herself ! Even as the Duchess of St. Albans Queen Victoria did not "receive" her.
She never forgot her less than exalted origins and was generous and kind hearted with a willful sense of humour. On her death in 1837 her fortune went to Mr. Coutts' granddaughter Angela Burdett-Coutts (to whom she was very close) who spent her money in charitable and generous works throughout a long life. Angela Burdett-Coutts was enobled as a baroness in her own right and granted the Freedom of the City of London. The Duke of St Albans remarried.
from a painting: dark haired, mischievous, she is looking up and away, smiling, one finger pointing towrds her handsome young face.