GRACE EYRE WOODHEAD 1864 - 1936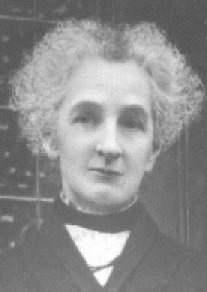 Grace Eyre Woodhead devoted her life to the care of mentally handicapped children from poor families and backgrounds. She was born in Brighton in 1864 at 12 Norfolk Terrace the eleventh of the twelve children of Emily (nee Clements) and Major Henry Joseph Woodhead. After studying at Lady Margaret Hall in Oxford she returned to Sussex and became involved in arranging holidays from London Special Schools for handicapped children in the good country air of Heathfield: she also invited girls from special schools to stay at her home 30 Compton Avenue in Brighton.
She became very aware of the lack of any care or treatment for poor mentally and physically handicapped children. Often abused and neglected in their own homes, if a child was brought to the attention of the Poor Law Authorities he or she would be moved permanently to the Workhouse or large Mental Asylum remaining there for life. By 1899 Miss Woodhead had begun an unofficial society in Brighton to work for these children, persuading her friends to offer a warm and loving home to poor handicapped children, removing them them from institutional care into family life.
In 1913 the Mental Deficiency Act imposed the duty of locating and arranging Institutional Care Care or Guardianship for all mentally handicapped people upon Local Authorities in England and Wales. In Brighton a Meeting was held in June 1913 at Oddfellows Hall, Queens Road, Brighton, to set up a Guardianship Society under the Regulation of the newly formed Board of Control and Dr Helen Boyle became a Trustee.
Grace Eyre Woodhead devoted all her energies and abilities for the rest of her life to the furtherance of the aims and objectives of the Brighton Guardianship Society. Increasingly concentrating on the mentally disadvantaged the Society set up Industrial Training Centres in Brighton and Hove and Cottage Farm Training Centres in the surrounding Sussex and Kent countryside. In 1925 a Mental After Care Committee was formed to help patients leaving Mental Hospitals and an Out Patient Clinic for Nervous Disorders was set up in 1926. The work of the Society continued to expand and in 1950 its headquarters moved to a converted Methodist Church in Old Shoreham Road, Hove, now named The Avondale Centre; and in 1988 the Guardianship Society became The Grace Eyre Foundation.
Grace Eyre Woodhead suffered a heart attack in 1935 and died in Brighton on 5th April 1936. She is buried in the family vault at Brighton Extra Mural Cemetery, Woodvale; a memorial service was held for her at All Saint's Church Hove on 8th April 1935.
A pioneer of "Care in the Community" Grace Eyre Woodhead's work continues today; The Grace Eyre Foundation remains vigorous and lively at it home in Old Shoreham Road, Hove.