ELLEN NYE CHART d. 1892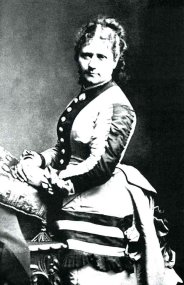 Ellen Elizabeth Nye Chart was born at Islington in London the daughter of a builder and soon became an established actress. She arrived in Brighton in 1865 to join the company of Henry Nye Chart the Actor/Manager/owner of the Theatre Royal in New Road. They were married in 1867 and had one son born in 1867. They continued to act together on stage although Ellen took an increasing and successful interest in the management of the theatre.
On the death of her husband in 1876 she assumed sole management of the theatre presenting the latest plays, operas and pantomimes to such success that the mortgage of left to her by her late husband was soon paid off and eventually she sold the theatre and her house "Royal House" at 9 New Road to the Brighton Theatre Royal limited for £43,000. On top of this she also kept the right to live in her house for her lifetime and managed to get herself elected at Joint Managing Director with a salary of £415 a year !
She died suddenly in 1892 in London but was brought back to be buried in the Brighton & Preston Cemetery after a grand funeral. She was a brilliant and capable manager who brought great prestige to the Theatre Royal Brighton and placed it amongst among the best known provincial theatres in England.