ELIZABETH ALLAN 1908 (?) - 1990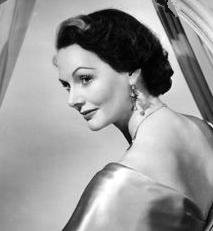 Elizabeth Allan was a well known and well loved British Actress and Film star of the 30s and 40s. She is credited with appearing in 46 films and 25 stage roles but went on to reach an all time peak of prominence and popularity in the 1950s as a panellist on the TV programme "What's My Line." Beautiful, witty, glamorously dressed and wearing remarkable jewellery, she was voted Top Female TV Personality of 1952.
She was born in Skegness in either 1908 or 1910 (it is not of course unusual for stage professionals to be vague about their age !) the youngest child of a doctor and his wife who initially objected to her choice of a career on the stage. However she made it to the Old Vic training school in London and began her career in repertory and playing small parts in British films. In 1932 married her agent Wilfred J O'Bryen.
In 1934 Elizabeth crossed the Atlantic to Hollywood appearing in several films, the best known being Mrs Copperfield/Murdstone in "David Copperfield" (1935 with Freddie Bartholomew,) Lucy Manette in "A Tale of Two Cities" (1935 with Ronald Coleman,) and as Nichette in "Camille" with Greta Garbo in 1936. She entered fully into the social life of Hollywood being romantically linked with the film star Clark Gable, and in tails and a topper escorted Marlene Dietrich to a costume ball ! Her time in Hollywood caused a rift in her marriage and she became out of sympathy with the Studio System; so when war broke out in 1939 Elizabeth left the dream factory to return to England.
She and her husband became happily reconciled and had two children eventually buying a house with a garden facing the sea in Hove - Courtney Tye, Courtney Terrace on Kingsway. Elizabeth continued to appear in British films for the next 20 years- her film with George Formby "She Snoops to Conquer" being particularly well received - on-stage, and on TV. After the death of her husband in 1977 she retired into private life and lived on until 1990.