CONSTANCE KENT b.1844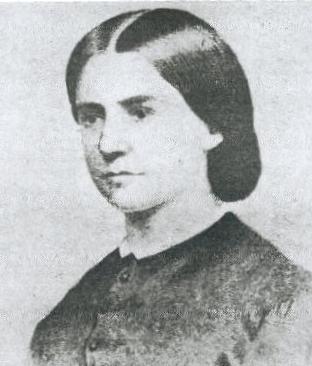 St Mary's Home for Female Penitents for Unmarried Mothers and Prostitutes was made up of several small houses 1 - 6 and 10 - 11 Queen Square Brighton which is behind Queens Road and backs up to the smarter Wykeham Terrace. The Home was founded by the Rev. Arthur Wagner, Perpetual Curate(later vicar) at the flinty High Anglican Church of St Paul's in nearby West Street, and run by by the nuns of the St Mary Order. Sisterhood and Obedience, silence and strict religious compliance was enforced on the inhabitants; dress was humble and discipline harsh.
Constance Kent came here as a probationer-nurse with particular responsibility for caring for the newly born children at the Home. But she was a women with a past. In 1860, aged 16, she had been suspected of carrying out a most savage murder; her half brother Frederick, a child of three, had been found with his throat cut in the family home at Rode in Wiltshire. Constance and the boy's nurse had been arrested on suspicion of the murder. However they were released as no evidence could be found of their guilt. Spiritually and emotionally Constance had been damaged by the experience; she sought work and religion and came St Mary's in Brighton. Wishing to take Communion she applied to undergo Confirmation but Rev.Wagner, who was a pious and godfearing man from a pious and godfearing family whose father and grandfath had been proud Vicars of St Nicholas' Church Brighton , refused to accept her as a Confirmant because …the stain of the suspicion of murder was still attached to her.
He instituted a series of Interviews with her to extract the truth and after 3 days Constance confessed to the brutal murder of her brother. Rev Wagner took himself off to London and produced a "written statement" to the Home Secretary and insisting on a trial. This took place in on 19th July 1865 and Constance pleaded Guilty ; the "statement" was the only evidence though it was known not to be written in her handwriting; Rev. Wagner piously refusing to disclose in evidence what Constance had actually said to him. Since at this time the accused person was not allowed to speak in court Constance Kent was found guilty and sentenced to death unheard. There was a public outcry at what was seen as an unfair trial; considerable public sympathy was shown towards Constance opinion being that she had confessed in order to shield her father who had been having an affair with the dead child's nurse ! Even the Home Secretary thought the confession unsafe! In Brighton the Sisters of St Mary were abused in the street by a mob and the Rev Wagner, never popular because of his stern religion, was assaulted by having a gun fired at him.
Because of this show of public opinion the death sentence was commuted to imprisonment, and after twenty years Constance Kent was released. During her imprisonment she continued her religious faith and made mosaic panels for the Chapel of the Bishop of Chichester, the Sanctuary of East Grinstead Church, and St Paul's Church in London. She was released into the Custody of Rev Wagner but eventually left England for ever. Some sources say she went to Canada, some to Australia. No doubt then, as now, she was given a fresh start in a new place with a new name.