CONSTANCE BLACK GARNETT 1861 - 1946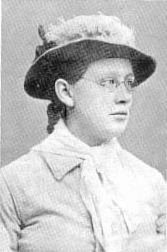 Constance Black, a younger sister of Clementina Black, was born in The photo shows a round faced rather stern young lady with spectacles. She wears a big hat with a feather and ascarf around her neck. She is about 20 ?1861 and lived in the family home at 58 Ship Street Brighton. Her health was poor as a child, but she responded well to home education and later attended the Brighton High School where she won a scholarship to Newnham College in Cambridge in 1879 to study classics. One of her friends at school was Amy Levy, the writer and poet, and together with her sisters Clementina and Grace, Constance went to London to work and to share a flat at 27 Fitzroy Street.
She became a private teacher and then was Librarian at The People's Palace a college for poor students in Whitechapel in London's East End. She joined the Fabian Society and in 1884 met Edward Garnett, a writer and literary critic (not tolerant of popular authors such as Elizabeth Robins and Elinor Glin who was the son of Richard Garnett the Librarian and Keeper of Printed Books at the British Museum. They were married in 1889 and had one son David born in Brighton in 1892 and named for her father David Black. Known as Bunny he also became a successful writer with the Bloomsbury Group and was a lover of Duncan Grant the painter. Later young David married Vanessa Bell's daughter Angelica of Charleston Farmhouse in East Sussex. At the time of writing (2002) Angelica Grant now lives in the South of France.
During her pregnancy Constance had become interested in leaning Russian, possibly because of the family connection*: the birth was difficult and when she was recovering she continued to work at the language. She became very fluent and took up work as a translator of Russian Literature; during her lifetime she translated works of Tolstoy,Turgenyev, Dostoyevsky and Gogol amongst others. To this days her translation are highly regarded. She visited Russian twice in 1892 alone and in 1904 with young David. In later life her eyesight deteriorated but she continued to translate having the Russian read aloud to her. She died in 1946, the last of the Black family.