CLEMENTINA BLACK 1853 - 1922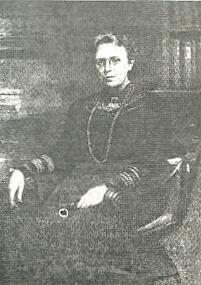 Clementina Black was born in 1853 the eldest daughter of David Black a Solicitor and Town Clerk of Brighton who also acted as Coroner. His father Peter Black had been Naval Architect to Czar Nicholas I of Russia, he had spent much of his youth in Russia and later in Canada; he came to Brighton at the request of his brother another Peter who was French Consul in Brighton.
The family of 6 children lived in 58 Ship Street Large brick built house the lower part rusticated in white imitation stone. The house is situated in a part of Brighton popular with tourists many of which can be seen in the photographs.Brighton and Clementina looked after her 5 siblings when her mother died in 1875. She began to write fiction and her first novel A Sussex Idyll was published in 1877. After the death of her father however she left Brighton and moved to London with her sister Grace where together with Constance (who came later) they shared a flat at 27 Fitzroy Street and moved into literary, Fabian and Socialist circles. Clementina continued to write fiction and became a close friend of Amy Levy the writer and poet who had been at school in Brighton with her sister Constance. She also knew Eleanor Marx (daughter of Karl,) Olive Schreiner, Dolly Maitland Radford,and the Keeper of Printed Books at The British Museum - Richard Garnett - amongst others.
Clementina became interested and then deeply involved in the problems facing working women becoming the Hon. Sec. Of The Women's Trade Union League which later merged with the Women's Industrial Council. She campaigned against employers who paid very low wages for women and very much on behalf of equal pay for equal work and joined the Women's Provident and protective League. She was also very involved in the Match Girl's Strike of 1888 and at the formation of the Women's Industrial Council met Hilda Martindale who worked as a Women's Factory Inspector. Two books followed "Sweated Industry and the Minimum Wage" in 1907 and "A Case for Trade Boards" in 1909 but as well as writing Clementina Black was very active the London Branch of the National Union of Women's Suffrage Societies (NUWSS) and edited their journal "The Common Cause."
Towards the end of her life she suffered from failing eyesight but continued to write; her last novel The Agitator which was based on her experiences in the Trade Union Movement was very successful. She died at her home 22 Westmoreland Road, Barnes, Middx on 19.12 1922, and was buried in East Sheen Cemetery where her gravestone can still be seen near the Sheen Road entrance. There is an inscription :
'Finally brethren, whatsoever things are true, whatsoever things are honest, whatsoever things are just, whatsoever things are pure, whatsoever things are lovely, whatsoever things are of good report; if there be any virtue and if there be any praise, think on these things.'