ANNA MARIA CROUCH 1763 -1805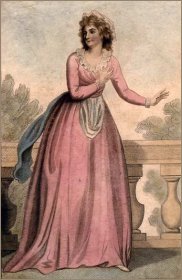 Anna Maria Crouch was a singer and actress well known on the London stage. She was a child performer and sang in the drawing room of Lady Lewes, the wife of the then Lord Mayor of London, going on to appear at Drury Lane Theatre at age 16.
Quickly becoming a favourite at Drury Lane she soon came to Brighton to perform and appeared magnificently at the opening of the Duke Street Theatre (now demolished) on July 13th 1790. Her great part was Polly Peachum in the Beggars Opera, her voice being light and sweet rather than dramatic, but her beauty was reputed to be outstanding and her elegance and charm were legendary in her time. She had eloped with an Irish peer in 1783 but the following year married Mr. Crouch a Naval officer but they separated soon after in 1791.
In 1787 she met a young and talented Irish baritone, Michael Kelly, whom she taught to speak English, to sing and to act. She nurtured his career and eventually he was so successful that he appeared at the Drury Lane Theatre in the London opposite her. They became lovers but this did not stop her having a short but rewarding liaison with the Prince of Wales who gave her a bond for £10,000. It was not a lasting affair and Anna Maria soon returned to her Michael Kelly and they continued to live happily together owning houses in London as well as one at 9 Mulberry Square, North Street in Brighton (now long since demolished; it was on the north side more or less where Premier Lodge is now.)
She died suddenly in Brighton on 2nd October 1805 when her death is said to have occurred either from a carriage accident or from heavy drinking ! She is buried in St Nicholas' Churchyard in Brighton sheltered under the north wall behind the church; there is a fine Coadstone Urn and the commemorative plaque, known to have been written by Michael Kelly, can still be read.