ANGELA THIRKELL 1890 - 1961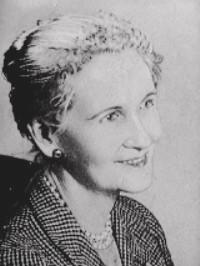 Angela Margaret Mackail was born in London into wealthy and Black and white smiling three quarter photo: she looks kind, generous and smiles nicely. White hair, pointed nose and chin.prominent middle class family with many literary and artistic connections. Her father was a Professor of Poetry at Oxford and her mother was the daughter of Sir Edward Burne-Jones the famous Pre-Raphaelite painter and designer in William Morris' Design Company. Sir Edward Burne-Jones and his wife lived in Rottingdean near the house of writer Rudyard Kipling who Lady Burne-Jones' nephew. Angela spent many happy holidays as a child her grandfather's house in Rottingdean, then a small village surrounded by unspoiled countryside. She describes her experiences in her first book "Three Houses" pub.1931, her description of the journey to Rottingdean from Brighton Station by the white horse drawn omnibus (which terminated at Rottingdean at the pub The White Horse) as it clattered past bathing machines, the pier and terraces and squares of Regency Houses and black houses and along the cliffs until the sight of Rottingdean Windmill meant the end of the journey ! Little different from the horseless carriage journey we use today.
Like so many women Angela Thirkell turned to writing after the failure of a marriage; she had firstly married a singer James Campbell McInnes in 1911 but they were divorced in in 1917. They had 3 children, a daughter Mary who sadly died young in 1918 is buried in the churchyard of St Margaret's Church in Rottingdean. A year after the divorce in 1918 Angela married again, George Thirkell, and they travelled to Australia where her fourth child Lance was born. However Angela left her husband and returned to England in 1929 when she began her most successful writing career. She lived in London and became a prolific and popular novelist placing many of her novels in Trollope's mythical county of Barsetshire as well as writing children's stories. Angela Thirkell died in 1961, still writing, and is buried in the churchyard of St. Margaret's Church in Rottingdean next to her daughter.