AMY LEVY 1861 - 1889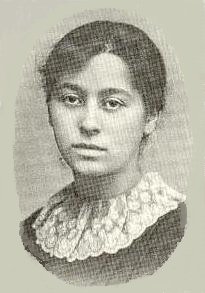 Beautiful but sombre face; young woman. big brown eyes and gently parted long hair.Amy Levy was born in London in 1861 the second of 7 children into a wealthy middle class Anglo-Jewish family, firmly integrated into Victorian life. The children read freely and participated in secular literary activities and, the whole family frequently took part home theatricals. And the children "published" literary magazines with Amy contributing poetry and plays.
At age 15 in 1876 Amy was sent to Brighton to study at Brighton High School, she lived in Hove in lodgings at 27 St. Michael's Place and her family came down for holidays - taking a furnished house at 49 Brunswick Place also in Hove. At at school Amy met and became friends with Constance Black and together they followed in the White long and tall building: pillars and windows - all painted. Top of gateway stone pillars and the edge of a tree canopy.footsteps of their much loved headmistress Miss Edith Creak and went on to study at Newnham College Cambridge in 1879. In 1880 her first book of poetry Xantippe and other Verse was published, but in 1881 Amy left Cambridge; she had attracted the attention of the publisher Richard Garnett who republished Xantippe in a volume containing other poetry and Amy began a new life in London continuing to write and publish poetry.
Her friends were young literary men and women with Socialist leanings - amongst them Eleanor Marx, Max Beer, Olive Schreiner, Beatrice Potter (later Webb,) Dolly Maitland Radford, and Clementina and Grace Black from Brighton both of whom had also arrived in London. The group was centered around the British Museum Reading Room in what was later to become Bloomsbury. Amy became firm friends with "Clemmy" who as well as writing fiction was becoming interested in Social reform, they remained very close throughout Amy's life. Constance Black was also in their group, she married Richard Garnett's son Edward in 1889.
Since childhood Amy had suffered from periods of savage depression but she continued to write and publish poetry as well as to travel widely in Europe, meeting up and entertaining a (hopeless) passion for the writer Coloured oil painting cropped to show the head. bookish, bespectacled, wide eys looking away from the viewer.and aesthete Vernon Lee (Violet Paget). A Minor Poet and other Verse was published in 1883; the poetry frequently describing Love for a Woman, mostly unrequited, sometimes written using a male persona. She continued to live in London writing and publishing poetry in many magazines and journals; in 1889 The Plane Tree and other Verse was published as well as her novel Reuben Sachs, a critical novel about Jewish life which was not altogether well received by the Jewish Community.
Amy's life was busy and successful, she had a circle of fond friends, she was writing poetry, and meeting literary figures, but her mental health had deteriorated beyond recovery. On 10th September 1889 she shut herself her room, lit charcoal and inhaled the fumes; she was found dead by her mother and sister. She was 28 years old.